Android Custom Theme of the Month: Moonshine

We're starting up a new recurring feature: Android Custom Theme of the Month. This is to give you inspiration for how to make your Android device beautiful while simultaneously recognizing the developers of the different components of these theme packages. This month's theme: Moonshine.
For a little background, there was a leak recently of some redesigned Android app icons for Google services. The redesigned icons are much flatter, feature easily recognized silhouettes, and hard shadows. The new style is supposedly referred to internally as "Moonshine." Here's the initial leaked image, courtesy of Android Police: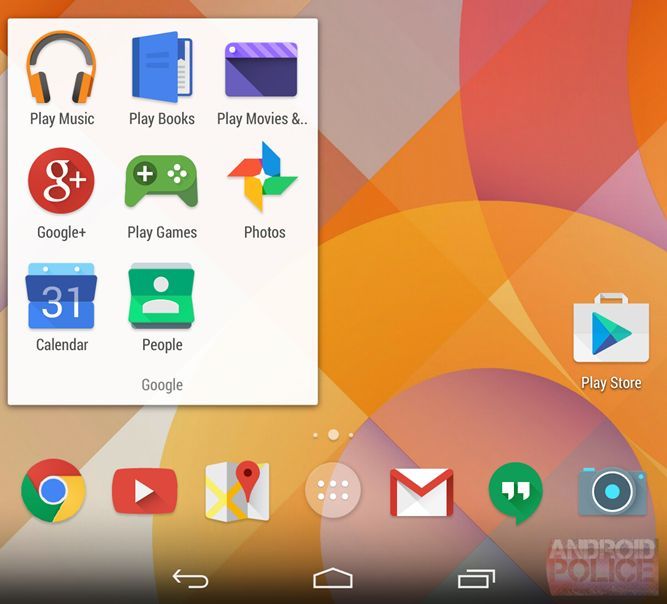 Looks nice, doesn't it? It has been a long time since Android went from the old Gingerbread-era interface to the present-day "Holo" look. Now is a good time for a refresh and hopefully Moonshine shows the way.
It should be no surprise that enterprising developers got to work crafting Moonshine-inspired icons for use in custom themes and that's the backbone of this week's theme of the month. It all starts with Moonshine Icons, the aptly named Moonshine-inspired icon pack that we think stands out from the pack. Best of all, unlike most icon packs of its caliber, it is totally free.
Here's a quick glance, via one of the promo photos on their Play Store page:
Unlike some themes we'll build in the future, this icon pack also comes chock full of perfect wallpapers. We picked our favorite for the final configuration. The only thing missing from Moonshine Icons is a beautiful widget that follows the same design cues and color scheme…
Well we have just the thing in our very own Flat Calendar Widget. Using a just-released Moonshine color scheme, we are providing the missing piece to this setup. Don't worry, this is available in free version in addition to PRO. We won't always be making a component of our Android Theme of the Month, but this opportunity presented itself too perfectly. A quick look at the Moonshine theme:
As will most custom theme widgets, this requires Zooper Widget Pro.
Okay…enough anticipation. Here's this month's Android Custom Theme of the Month in its fully assembled glory:
It is at the same time extremely fresh while still astonishingly Google. A setup like this is not a far-fetched stock Android theme in the future. Why wait for Google when you can have this, fine tuned to your specification?
If you want to know how to set up custom themes here, we have the tools for you. For more recommendations, sign up for our newsletter and follow our Playboard Channel for all of our favorite custom theming apps.
`); document.write(google); document.write(``); };
`); document.write(google); document.write(``); };
Support This Site
Bitcoin Donations:
18DP9TGdPN5usTKMRMfPk6Q2mSr4mAz8NJ
Litecoin Donations:
LPKQbDPykwjXr5NbXfVVQH9TqM5C497A16