Contentverse Review: Bring your document management into the 21st century the easy way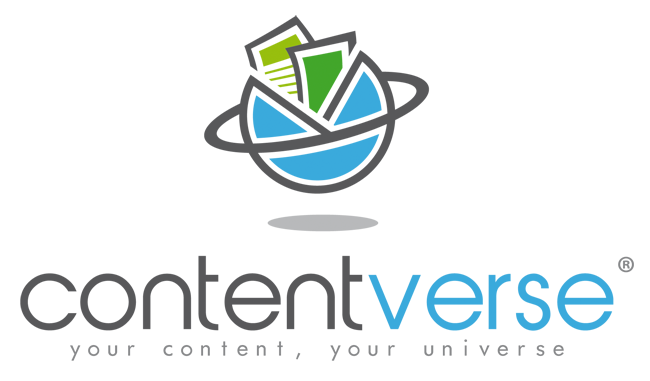 If you work in an office of any kind, you know finding a way to get ahold of the documents you need makes up a significant portion of the time and effort spent on the job. Paper-based files need to be printed, mailed, scanned, and printed again. You may try using digital folders, shuffling documents around from flash drive to flash drive, or over email. Maybe you have your stuff stored online. No matter what you're using, nothing seems to quite cut it. You need a specialized program to cover all of your workplace's growing demands.
Document Management software is designed for importing files, organizing them according to your needs, and making them readily available at any time for any reason. With this method of storage, massive cabinets full of printed records are no longer necessary. You can keep everything you need in one single location, accessible by you and your workforce from anywhere. One such program on the market today that does this exceptionally well is Contentverse.
Why use Contentverse?
It's designed by Computhink, a company that has been making this software since 1994. They've had twenty years to get it right, and the improvements are non-stop (they just rolled out version 8.1 in April, with more changes on the way). Although a small, Chicago-based company, they sell their software internationally and across the United States, to businesses in various industries.
Contentverse was created specifically for use in offices, with a comprehensive, yet intuitive user interface that anyone in the workplace can wrap their head around. Contentverse makes it painless to consolidate your business on one platform. You won't have to keep transferring files between computers or devices. All of your content is in one place, and all of it can be shaped into whatever assortment suits your style.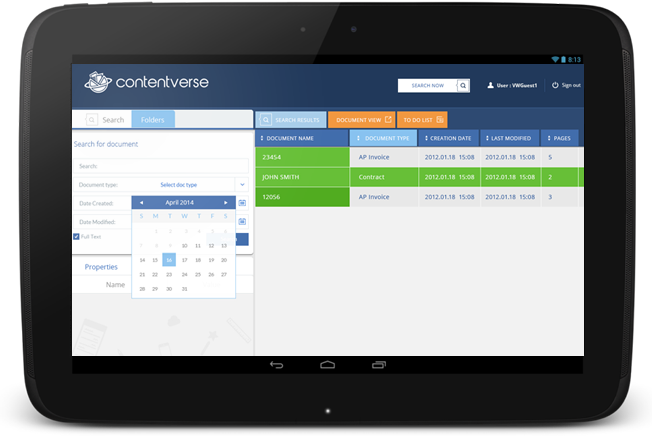 A look at the mobile interface.
More than just a document manager
When a business purchases Contentverse, an administrator is given complete control over how documents are handled, and by whom. With every piece of information that enters the system, you can give it a tailored assortment of fields to fill or boxes to check. This may seem tedious at first, but this saves countless hours of time searching for these files down the road. You can search for these documents based on content, the tags you've given them, when they were entered into the system, etc.
We're all about security here and that's a big feature that Contentverse delivers on in a powerful and customizable way. You don't want an Edward Snowden walking around the office looking at documents that he or she is not supposed to see. Likewise, you don't want that person who just doesn't "get" computers to accidentally ruin their computer and take all of your firm's most precious data with it.
With the version revision capabilities of Contentverse, every time you make a revised copy of a document, the old one is still held onto, at least for as long as you want it to be. Like other features, the administrator can alter the figures for this. They can also adjust how deleted documents are addressed. For instance, when a user attempts to delete an item, the admin would be notified with a prompt of whether to (or when to) destroy it. Mistakes like accidentally trashing an essential form or file are not a problem in this system.
Final thoughts
You could try to keep your files in order the way you have been, but that can cost you money and valuable time that no business wants to waste. Contentverse is not the only product out there that offers this sort of service; M Files, Nuxeo, and Laserfiche are some of the most ubiquitous competitors.
However, M Files is more integration software, with no capability to view a document if you do not have its supporting program installed on your computer; Nuxeo has no ability to optically recognize your scanned documents; and Laserfiche has no version retention. Although this rival software still comes feature-packed and designed for document management, none of them have quite all of the characteristics that make Contentverse worth your dollar.
It has a longstanding history of bringing users what they need at a relatively low cost. Computhink continues to generate additional features and updates for their document management software, keeping their eye on what technology is available and what direction the industry is taking. If you want a program that makes your life easier and won't let you down, Contentverse is worth a look.
`); document.write(google); document.write(``); };
`); document.write(google); document.write(``); };
Support This Site
Bitcoin Donations:
18DP9TGdPN5usTKMRMfPk6Q2mSr4mAz8NJ
Litecoin Donations:
LPKQbDPykwjXr5NbXfVVQH9TqM5C497A16