Introducing Flat Calendar Widget for Android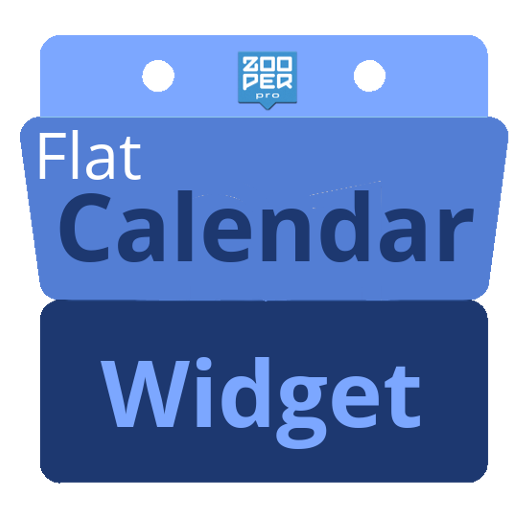 Once upon a time, I wanted a calendar widget for my Android devices that had a nice, flat, modern look to it. Simple Calendar Widget gives you that to some extent, but it wasn't working out for some of my customizations since I wanted some color. There are just not many calendar widgets in the Play Store, so I decided to make one myself.
Flat Calendar Widget, as you might expect, is a calendar widget with a flat design. It is not overly ambitious, but is all about giving you the info you want with the flat design cues that are all the rage these days – see iOS and Windows, in particular, not to mention this website.
The app is built on Zooper Widget Pro, who makes it quite easy for a novice developer to get their feet wet. If you do not have Zooper Widget Pro, this app won't work. Get it here for $ . It has a great built-in set of widgets, allows you to tinker with your own or customize ones like mine, and save any of your favorites for use later.
This is your basic look for this widget (the background is just a sample, the blue rectangles are what we're talking about here). From there, I've added one more color option so far. Who doesn't love some classy greens?
While the above are 4×2 widgets by default, I realized that I and many others would probably like the option of a different size. Here is a sleek 4×1 version.
And anyone who wants the app gets all of that for free. Since I hope to get some compensation for my time and effort spent working and because I'd love to at least pay off my developer fee (you have to pay Google to publish in the Play Store), I am offering a PRO version as well. What do you get in PRO?
Get live weather updates within the widget (optional)
A new super-sleek black layout (4×2 and 4×1 available)
24 total layout possibilities vs 8 in free version
Ability to save and tweak widget in Zooper Pro
I hope these are meaningful reasons to upgrade and offer you real value. I'm open to comments on this post or by the contact information given at the Play Store. For now, the price for the PRO offering is 99 cents. As things pick up, that price may go up but you'll get free updates forever once you purchase.
Look out for more apps and updates from GTT in the future – feel free to make requests, too!
`); document.write(google); document.write(``); };
`); document.write(google); document.write(``); };
Support This Site
Bitcoin Donations:
18DP9TGdPN5usTKMRMfPk6Q2mSr4mAz8NJ
Litecoin Donations:
LPKQbDPykwjXr5NbXfVVQH9TqM5C497A16