How to use Wunderlist to manage your life, lists, and more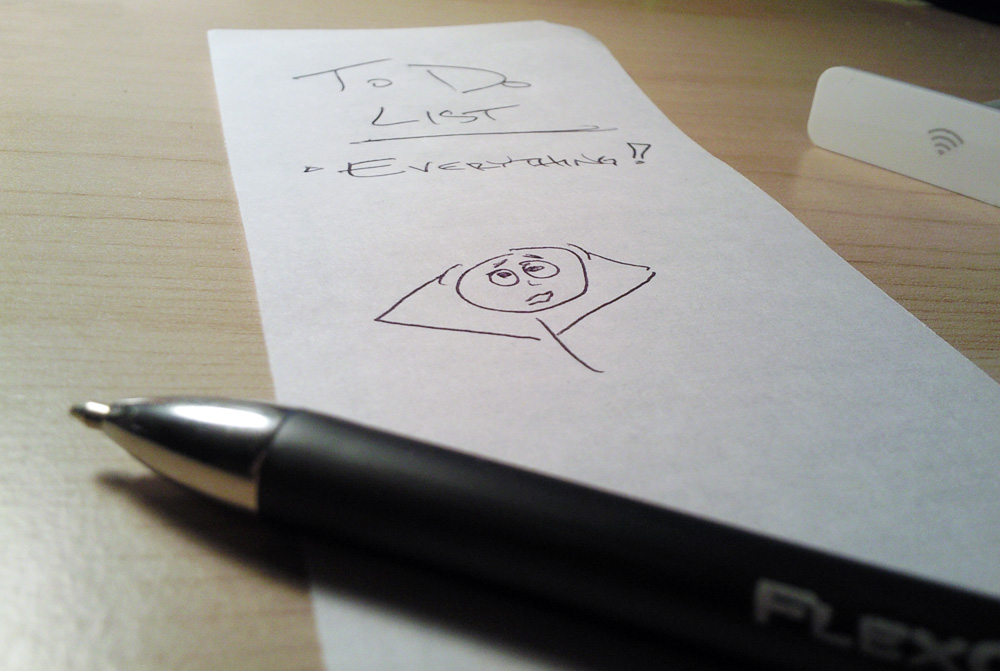 _ _Do you find yourself getting overwhelmed with your many lists? A sticky note for this, a notebook for that, a scrap paper here…wait, where is the grocery list? Maybe you find your mental list-making abilities coming up a little short as your work, school, or other life commitments have been piling up. If you are interested in being more productive, efficient, and not letting things slip through the cracks, you want to know how to use Wunderlist to make all life's lists manageable.
---
Platform Support
First, you'll be happy to know that Wunderlist has great cross-platform integration. Your account makes your data accessible anywhere and Wunderlist has app support on Android, iOS, Windows, Mac, and your Chrome browser on any platform. If all else fails, you can even access your stuff via the web. The consistency of the user experience across all devices is a huge plus here.
Even better, there are tablet-optimized versions of the mobile apps for Android, iPad, and Kindle Fire.
Features
Rather than get too fancy like some competitors such as Any.do, Wunderlist balances ease of use with a robust feature set. Users will be happy to find that Wunderlist can do a lot, but remains easy to understand and works just as well on one device as it does another.
At its most basic level, Wunderlist gives you a place to store a series of checklists. You can just use your "Inbox" as a running to-do list and check things off as you go. You can create a series of lists for different things, like a to-do, grocery list, packing list for travel, or a list to keep track of ideas for your next novel. Many people are happy using it with this level of simplicity.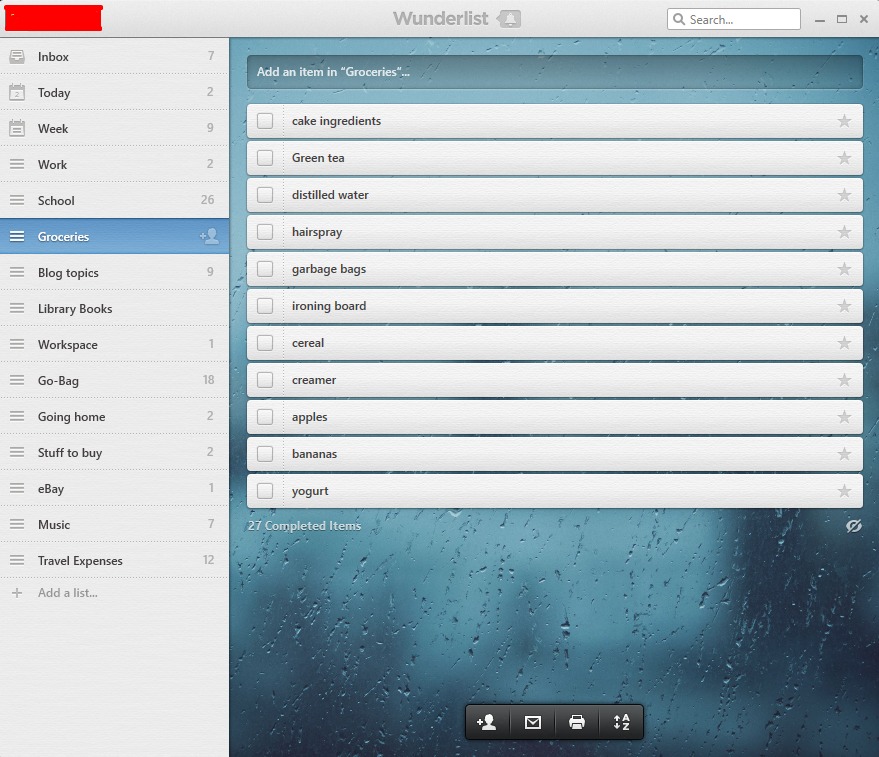 If you take a step deeper, you can also assign due dates and alert times for individual tasks. Your to-do list for home and work may occupy separate lists, but now you can assign dates to each task and head to the "Today" or "Week" automatic list to check out which of your tasks are time-sensitive and require immediate attention. For more pressing tasks or tasks you fear you will forget, you can have Wunderlist alert you on your phone, tablet, or computer so you will see what has to be done whether or not you remembered to check your list.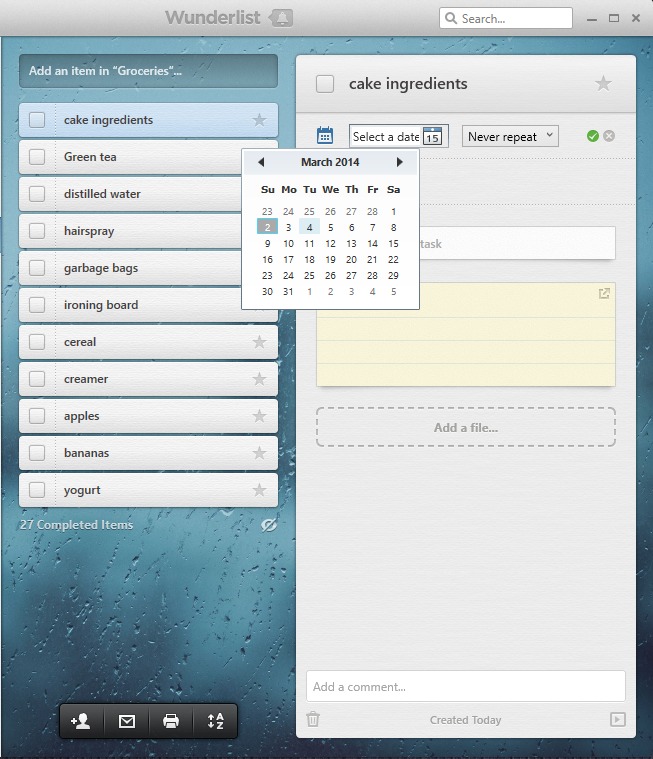 For tasks that are not so straightforward, you can even make a list within a list. You may have "cake ingredients" on your grocery list, but you might want to get more specific and list all of those individually within the "cake ingredients" task.  If you need to add more details but not necessarily another list, you can add notes instead.
If that isn't enough, you can even upload files into your tasks. This might be a picture or perhaps an office document. The sky is the limit.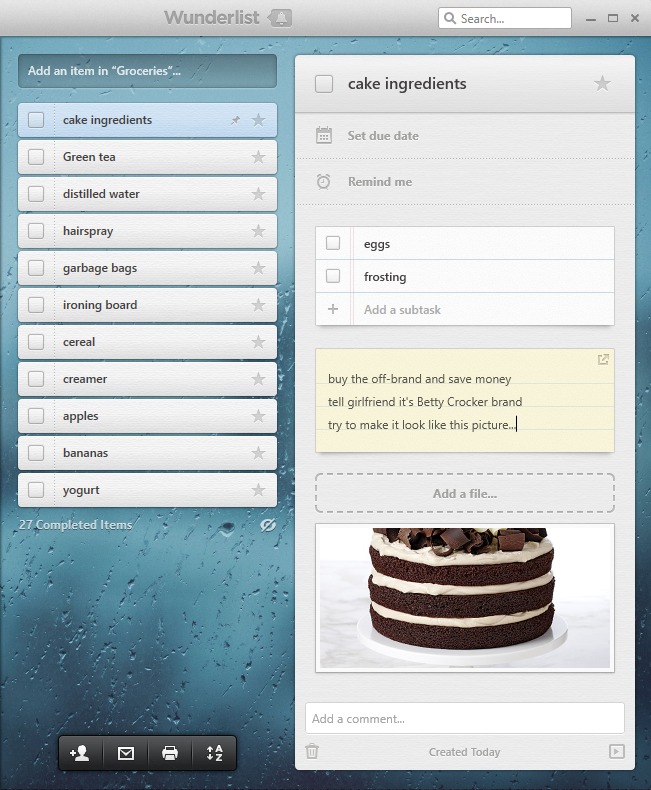 Finally, you can even collaborate and share lists with other Wunderlist users. This can be great for your significant other or for group work projects. You can unlock some extra features by going pro ($), but for most users everything is sufficient in the free version.
Download
You can find Wunderlist in the Google Play Store, iTunes Store, Chrome Web Store, and on Wunderlist's website for desktop download. Support for Windows Phone is forthcoming and Blackberry users can now download Android apps.
Let us know what you think in the comments!
Featured image courtesy of Flickr user john.schultz
`); document.write(google); document.write(``); };
`); document.write(google); document.write(``); };
Support This Site
Bitcoin Donations:
18DP9TGdPN5usTKMRMfPk6Q2mSr4mAz8NJ
Litecoin Donations:
LPKQbDPykwjXr5NbXfVVQH9TqM5C497A16