External hard drive buying guide: desktop, portable, and thumb drives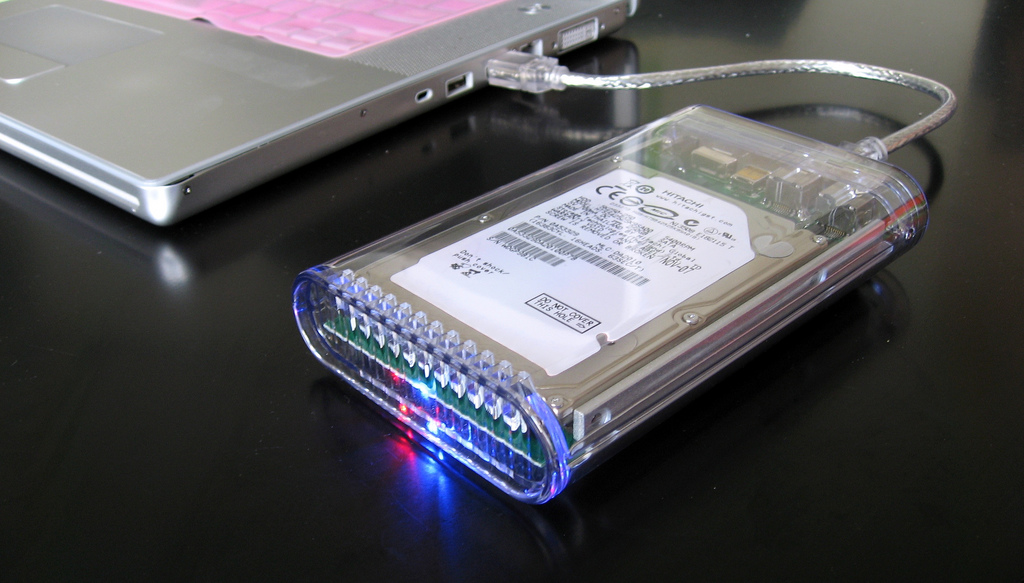 There are lots of external hard drives out there and it can be hard for a novice to figure it all out. Different storage amounts, software features, shapes, and sizes make it quite complicated. Let's find out what works for you!
The first thing to decide is how much storage you will need. First, go to "My Computer" or its Mac/Linux equivalent, look at the properties of your "C:" or main drive, and see how much storage you are currently using. If the information is available, try to look into what takes up the most space. Sometimes you have a bunch of things you don't feel like you need to have backed up, which is perfectly fine.
If you're a typical student or otherwise don't store much on your computer outside of some office documents, you may not need much storage at all. 50GB or even much less could serve your needs. Ask yourself: how big is your "My Documents" folder? Are there many important things on your computer that aren't in that folder?
If you have a collection of music, photos, and/or videos, you are more likely to need storage that is approaching the 500GB, 1TB, or even higher range. You'll have to look around at the folders where you keep the files you access the most and look into their sizes.
If you do video editing or are a professional photographer, you probably have quite incredible storage needs. You might have to look into options well in excess of 2TB. Chances are if you fall into this category, you are quite aware of your storage needs already.
If you're a person that wants 500GB or more of storage, you'll want to look at the conventional external hard drives. First, we'll look at large, high-capacity drives that are not very portable and are meant to sit with whichever computer they are backing up. These are often very cost effective per GB and are relatively unlikely to fail since they are just as stationary as your computer.
Note: if you have Javascript blocking or some ad blockers running, you won't be able to see the product recommendations! We always appreciate if you disable ad blockers on our site so that we can continue running, but either way you can allow only temporarily. These particular objects are not ads, but Amazon product listings for informational purposes.
I am especially fond of the Western Digital My Book because it is very price effective, has user-friendly software, and very useful added features. In addition to its easy to understand backup software, you can have the My Book automatically sync to Dropbox or sync from your existing Dropbox files for two levels of backup. The BUFFALO offering wins for those seeking a rock-solid warranty as well as the flexibility it offers by being compatible with both PC and Mac.
If you're looking for something more portable but with the kind of substantial and price effective storage of the previous options, there are great options for you, too.
I use and love the Silicon Power A80 and recommend it wholeheartedly. I needed something that was portable, yet could sustain the kind of beating I tend to give all of my precious items. The A80 is resistant to both water and drops while offering a very price competitive option and an extra USB 3.0 cable, which is the USB protocol that allows for the fastest file transfers. As a bonus, it works on both PC and Mac depending on your needs.
The WD My Passport Slim is a big step up from WD's previous offerings and offers a fairly sturdy, metal hard drive that is still cheap and useful. If you want their user-friendly software, slightly lower price, or slim design, they're your choice. Though you cannot use the same device on both PC and Mac, they do have a Mac equivalent for those who need it, and at an even better price.
The Seagate is another great option for those who are less interested in the physical sturdiness. Instead, you get even cheaper per GB (1 TB is only $67), compatibility with both Mac and PC without having to reformat and lose your data each time you switch, and just as useful software to make backups easy to do.
Finally, for those who want even more portability and/or do not need nearly so much storage space, we have the so-called "thumb drives." These use flash memory rather than the hard disk drives of the formerly mentioned options. Flash memory is much faster and less prone to failure, but also more expensive. At small capacities, though, it can make a lot more sense.
The SanDisk Extreme is the best USB flash drive on the market. We love it. What you're looking for here is something that does very fast file transfers, and that's what the SanDisk Extreme offers. Even better is that they offer file encryption, so if somebody steals/finds your drive, they'll need a password to see any of your personal data.
For someone that doesn't need as much performance and wants to save a few bucks, you have the SanDisk Cruzer. We have listed the 32GB to show you that it is less expensive per GB than the Extreme, but it is offered in 4GB, 8GB, 16GB, and 64GB flavors as well – the 4GB is only $7!
If you want higher capacities at this form factor, there are some options for you. Bear in mind that these will still be flash storage, which means it costs more per GB than the larger external hard drives. If the physical size is that important to you, you'll have to be willing to pay for it.
Here you have two levels of the high-capacity thumb drives. The Patriot is fairly expensive, but also offers extremely fast performance. Its transfer speeds are over twice as fast as the next thumb drive, despite only a marginal difference in price. It also boasts a metal casing that is resistant to drops, which is nice considering the cost investment you're putting into the product. There are also 64GB and 256GB size options.
The Lexar JumpDrive M10 is a good enough piece of equipment, but is definitely a choice for cost savings more than anything else. One particularly nice feature is its "Encrypt Stick Lite" software, which makes your files inaccessible to anyone who doesn't have your password. It also has a nifty meter on the outside that lets you know how much storage you're using without putting it into a computer to check on it.
The "do it all, even the cloud" device
There are now some devices that, in addition to being your high-capacity desktop external hard drive, can host your own private cloud storage.
The WD My Cloud is like the My Book in most ways, except one important aspect: the "Cloud" part. All of the data you store on the My Cloud is also stored securely on a personal "cloud." I put that in apostrophes because it is all stored on the device itself, but the device is hardwired to your home internet. You can (and must) access the My Cloud through the internet, making your backups available to you anywhere. Likewise, it makes having an entire family or set of devices backing up to the same device possible.
It is still dependent on your own internet connection, so if that's lost, you won't be able to access it. Likewise, it is quite a bit harder to get up and running than the other options. Nonetheless, this may be absolutely perfect for a lot of people, especially families or people with several different computers.
General considerations
For more tools to compare products, think about these things:
Make sure you get a USB 3.0 device, whichever you choose. This no longer adds much price and it really, really pays off in terms of transfer speed.
On that note, look at transfer speeds. If you are going to be transferring large files or large amounts of files, the read and write speeds are going to make a big difference in how long that takes. Check out product reviews because customers will test the speeds to see if they live up to what the manufacturer claims. Use this calculator from WolframAlpha to see how long it would take to do a transfer at different speeds.
Try to find out if the device is famous for failing. The larger external drives, in particular, tend to have unexplained failures. This is due to the kind of storage they use, which is similar to most computer hard drives. Even the best products have failure rates around 10% after a year of use, so don't be too terribly frightened by the inevitable cluster of negative reviews by people who had it crash on them. However, if there are more people dealing with failures than there are people happy with the product, you have a problem.
Look into warranties. While a warranty doesn't necessarily fix files you might lose because the product failed on you, it does allow you to feel like the money you spent wasn't completely wasted. With a multi-tier backup solution, in which you backup into the cloud as well, these don't have to be a big problem.
Featured image by miss karen (Flickr).
`); document.write(google); document.write(``); };
`); document.write(google); document.write(``); };
Support This Site
Bitcoin Donations:
18DP9TGdPN5usTKMRMfPk6Q2mSr4mAz8NJ
Litecoin Donations:
LPKQbDPykwjXr5NbXfVVQH9TqM5C497A16